Wednesday, November 26, 2008
Just a little turkey humor . . .
Thankful for family, health, happiness and good friends both old & new!
Posted by

Sandy Navarro
at 5:13 PM
No comments:

Tuesday, November 11, 2008
Have you heard?
Bad Girls Kits
is having another amazing Christmas Workshop!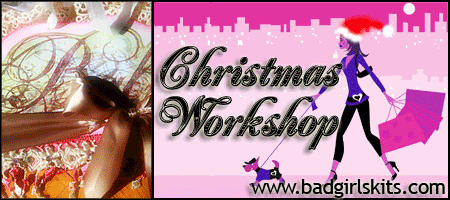 Here's what Wendy has planned for all us naughty little elves!
"...Santa brought his entourage to have fun too.... I do believe that would be the uber talented BAD GIRL DESIGNERS....yep...they are going to RAWK you girls with more FREE CLASSES than you will believe...HOW MANY???? Ummmm...what would you say if I told you there is going to be 22 !!!!!!!!!!!!! All of these festivities will begin on NOVEMBER 14th and continue through NOVEMBER 23rd!!!! And it doesn't stop there....we are going to BRING IT with LOTS of PRIZES.....not only BAD GIRLS GIFT CERTIFICATES, but also...lots of JAM PACKED SCRAPPY PACKAGES bursting at the seams!!!!
So....what else do we have for you??? Some very special GUEST DESIGNERS, and they are going to WOW you....GUARANTEED!
We also have lots of CHALLENGES to get you started with a BANG!!! Be forewarned girls...this is NOT a WORKSHOP for the faint at heart...we are going to get your pulse pumping and your heart pitter pattering!!!! Where can you find all this? On our
message board
- it's free and quick to register if you're not a member already!"
Wendy Rago, owner Bad Girls Kits
The classes were fabUlous last year and with all the added amazing talent here this year, I know we're going to be knocked off our elf shoes (stilettos, of course!). But, we won't miss a step or spill even a drop of the holiday cocktail in our hand because we are just that BAD! See you on the boards!
Posted by

Sandy Navarro
at 9:36 AM
No comments:

Saturday, November 1, 2008
Happy Halloween from the sexy pirate and the cool Samurai dude (aka DH) at the local sushi bar!
Posted by

Sandy Navarro
at 10:22 PM
1 comment: